Legacy Software
This software will not be in further development. Please have a look at our new software:
Easy playout on multiple projectors
Do you want to display videos and images using more than one projector? Do you want to adapt contents on various projection screens, but you don't need the overhead of a "big" media server"?
Then VIOSO Player is the most effective solution for you. It's never been easier to generate a homogeneous image utilizing several projectors. VIOSO Player features a stunning new technology: Using a camera multiple projection setups are accomplished fully automated.
An integrated media player displays videos and images with great ease. Distributing the content to each projector as well as taking care of the overlapping areas of the projectors is done totally unattended. Even curved screens, projection spheres up to total free-form surfaces can be used to display content. The complementary warping engine enables the exact adaption to any surface, after the projector setup has been finished – an essential advantage.
High Performance Video Playback
Most advanced warping of multiple projectors
Manual or automatic warping an blending for up to 8 projectors. Our integrated tools are perfect for quick and high-quality results.
Auto alignment of projectors
Our patented auto alignment algorithms can use an attached camera to automatically align the projection and to set up the alignment and edge blending.
Whether this is for a dome, a round screen or a projection mapping you will be excited by the versatile setup process.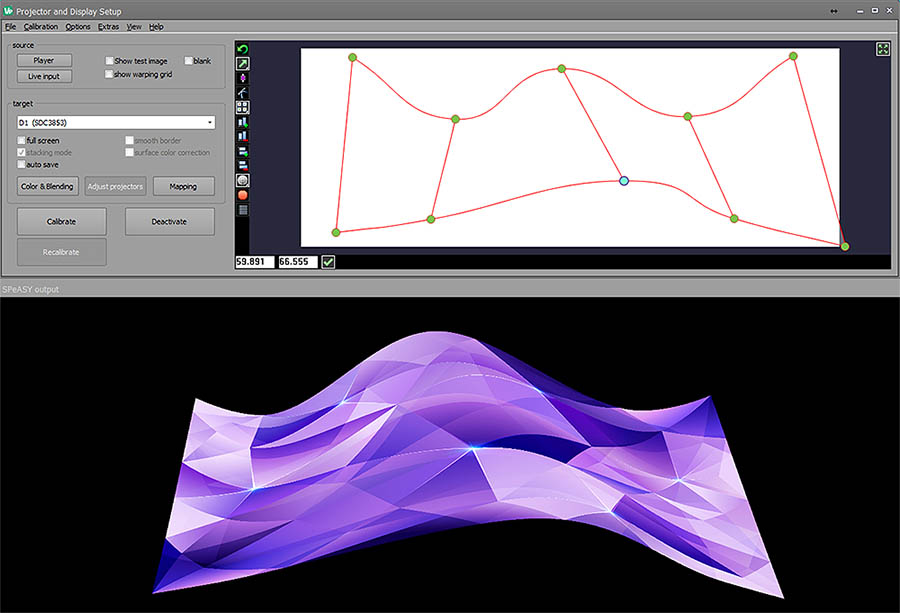 We recommend either Logitech-Webcams (C930) or – for more advanced setups – our own range of GigE IP network cameras that provides a great flexibility.
Simple but powerful high resolution media playback
VIOSO Player supports many image and video formats. They can be easily arranged on a playlist and controlled by network commands or manual actions. Autoplay / Autostart functionalities make VIOSO Player a powerful tool for fixed installations.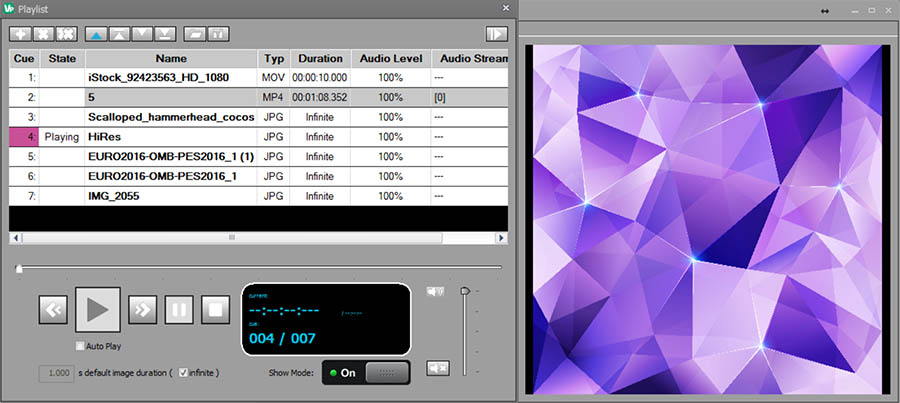 Masking & Color manipulation
Our "On-Screen"-Livemasking provides the most productive way to mask out certain areas in the display. In additon, color correction can be easily applied. Large-scale video playback
High resolution video playback supporting most relevant video formats, comes bundled with all required codecs. Remote control and automation
Control player state and cue list by a flexible network interface, including built-in webinterface for any browser and mobile device. Warping, blending and auto alignment
Supports all VIOSO technologies to generate a large continous image with multiple projectors over any surface type. Fulldomes
Supports any fulldome configuration, playback of prewarped content and transforming of other contents.
VIOSO Player runs on current multimedia capable PCs. It is recommended to try the targeted hardware using the free demo version of VIOSO Player before buying.
PC with Windows® 7, 8.1 or 10, 32- and 64-Bit
Windows® compatible live camera (not included)
For 1 projector: any DirectX compatible graphic board
For 2 projectors: nearly any DirectX compatible dual-head graphic board (e.g. NVIDIA GeForce or Quadro, AMD Radeon or Radion Pro, Matrox Dualhead2Go)
For 3 projectors: capable DirectX compatible graphic board (e.g. NVIDIA GeForce or Quadro, AMD Radeon or Radion Pro, Matrox Triplehead2Go)
For 4 projectors: powerful DirectX compatible graphic board (e.g. NVIDIA GeForce or Quadro, AMD Radeon or Radeon Pro, Datapath X/FX4)
For 5-8 projectors: 2x syncable professional graphics cards; we recommend 2x NVIDIA Quadro + Quadrosync or 2x Datapath X/FX4